Promotions & Offers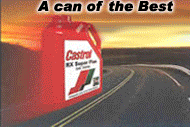 Kenya

Country News for Kenya

Mon, Jan 07 2008


Let Peace Prevail


Dear our Kenyan brothers and sisters, over the last two weeks, Kenya has been plunged into unprecedented turmoil following the outcome of the just-concluded general elections results.

Wed, Sep 26 2007


Kenol Appoints Terry Davidson as Non-Executive Director as it Positions Itself as a Key African Player


The Board has appointed Mr. Terry Davidson as a Non Executive Director with effect from the 25th day of September, 2007.

Tue, Aug 28 2007


A New Van for Mama Ngina


In our continued support of our foster home, Mama Ngina Children's Home, through of Corporate Social Responsibility (CSR) programme, Kenol Kobil has purchased a new van for the home.

Wed, Aug 22 2007


Kenol Appoints Two New Directors


The Board of Directors of Kenya Oil Company Ltd wishes to announce the appointment of two new Non Executive Directors with effect from 10th day of August 2007.