Promotions & Offers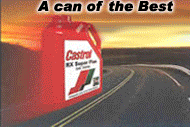 Rwanda

Country News for Rwanda

Mon, Aug 14 2006


Kobil Rwanda in Another Tennis Tourney Sponsorship
For the second time in two years, Kobil Rwanda in August hosted President Paul Kagame during a tennis tournament at the Cercle Sportif de Kigali Center

Fri, Jun 02 2006


Kobil Rwanda Country's Top Tax Payer
Kobil Rwanda has been recognized as the country's top taxpayer in the petroleum industry

Tue, Oct 25 2005


Kobil Hosts President in Tourney


Rwandese President Paul Kagame was this October among participants at the Kobil-sponsored tennis tournament at the Cercle Sportif de Kigali centre

Wed, Apr 20 2005


Kobil in Hunger Awareness Partnership
Kobil Rwanda is proud to be a partner of the World Cooks Tour Against Hunger (2005).

Mon, Mar 03 2003


Kobil Rwanda Opens First Station
Kenol has intensified its regional presence in line with its new mission of becoming a major player in Africa. The company has formally commenced retail sales in Kigali, Rwanda, by establishing the first service station in that market. The new service station has generated a lot of interest in Kigali.